ALTERNATE CONFLICT RESOLUTION
Mediation is a process in which an impartial third party assists disputants in finding a mutually acceptable solution to their dispute.
In business there will be disagreements, disputes, and differences of opinion.  When these happen, mediation is a great way to resolve these differences in a timely and effective manner with litigation.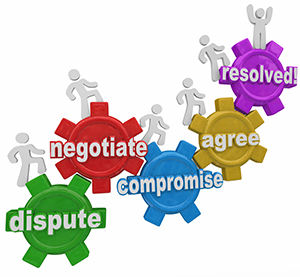 Here are a few reasons why you might benefit from mediation from the Ahmad Law Group;
Mediation ... is fair and neutral
Interested parties have an equal say in the mediation process and the settlement terms. Both sides get to share information, and offer solutions towards resolution. The mediator helps facilitate the process by ensuring that all parties communicate clearly and appropriately.
Mediation ... can save time and money
Litigation can be expensive, time consuming, and emotionally costly. In many cases a mediated settlement can be reached in one or two meetings, saving both time and money. You can also involve legal or other representation, however it is not required.
Mediation ... can be binding if agreement is reached
The goal of mediation is to reach a binding agreement that all parties can agree to. The mediator will use all the resources they have available to reach that goal, and if met, that agreement becomes binding. If an agreement is not reached, a lawsuit may then be filed. Or, if already in litigation, the case will revert back to the court.
Mediation ... is confidential
This is most important, the mediation process is confidential. Confidential information provided to the mediator by parties during the mediation process cannot be divulged by the mediator. Moreover, the parties' settlement discussions cannot be used as evidence in any future court proceeding.
To begin your Alternate Conflict Resolution, call our offices at 858.481.5606